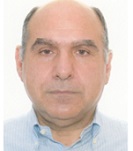 Panagiotis Koliopoulos
Dr. Civil Engineer, U.C.L.
Professor

Tel: 23210 49267
Fax: 23210 49154
Email:kolio@ihu.gr

Website: https://www.researchgate.net/profile/Panagiotis_Koliopoulos


Degrees:
Diploma in Civil Engineering, Democritus University, Greece
Ph.D. in Random Vibrations, University College London, U.K.

Courses:
Structural Analysis I – Determinate structures
Structural Analysis II – Indeterminate structures
Dynamics of Structures I
Matrix Structural Analysis
Dynamics of Structures II

Research Interests:
Static and dynamic analysis of structures
Energy characterization of seismic actions
Development and implementation of novel energy and 3D response spectra in conjunction with elastic and inelastic response spectra for seismic assessment and design
Stochastic dynamic analysis of structural response to random environmental actions (waves, winds, earthquakes)
Seismic risk assessment

Academic, Research and Professional Experience:
Professor, Civil Engineering Department, International Hellenic University (2019-today).
Professor, Civil Engineering Department, TEI of Central Macedonia (former TEI of Serres) (1998-2019).
Developer of teaching material and adjunct Professor of Structural Dynamics, in the MSc course on "Earthquake Engineering" (SMA-50), Open University, Greece (1998-2014)
Researcher, Institute of Engineering Seismology and Earthquake Engineering, Thessaloniki, Greece (1995-1998)
Freelance Consulting Engineer: STAND Engineering Consultants, Institute of Mechanics of Materials and Geostructures (1993-1994)
Senior Researcher: Participation in 11 research projects funded by the British Science and Engineering Research Council (SERC), European Commission, DG III (BRITE/EURAM, ESPRIT, ENVIRONMENT) and Greek Authorities (1989-1995).

Publications:
Scientific publications (peer-reviewed): 44

Memberships:
Technical Chamber of Greece
Greek Association of Theoretical and Applied Mechanics
Greek Association of Computational Mechanics